Princess Aiko Starts School
What a cutie.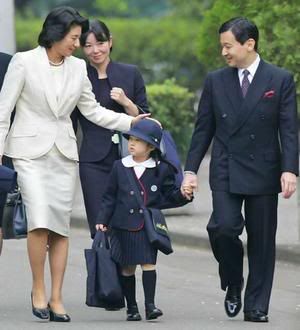 She was a queen among her new kindergarten friends yesterday, but there was no royal waiver from the routine of school life for the possible heir to the Chrysanthemum throne.

Four-year-old Princess Aiko's day went like this: arrive 9.30am, change into casual clothes, wash hands, gargle, go outside and play, stop to eat the lunch that Mum has packed, get back into the blue suit and go home at 1.30pm, the timetable posted on the Gakushuin Kindergarten website said. On some days there is no lunch, just some milk and home at 11.30am.

Princess Aiko arrived for her first day of kindergarten with her father, Crown Prince Naruhito and mother, Princess Masako. In dark uniform and long socks, she was carrying a book bag and a satchel for her lunch. The satchel, presumably, also held a glass for gargling. (Japanese gargle frequently for good hygiene).
It saddens me that Korea did not keep their royalty.