Proud Papa Moment
As most or at least some of you know, I have a 13 year old daughter, freshman in high school. She's done the normal piano and ballet during her growing up years.
Upon reaching the lofty heights of high school, she decided to join the Ballroom Dance Team. Yes, there are actual ballroom dance teams in certain parts of the country, it is big here. Being a freshman, she was lucky to make the JV team. Interesting though, in competition, the JV teams compete directly with the Varsity teams. So, in the last competition, as a shock to everyone, her JV team took their part of the competition, out of 8 teams.
A couple of stills from the competition: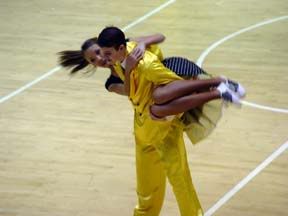 and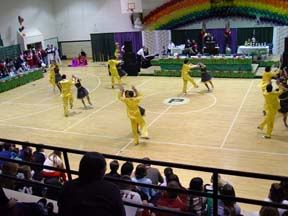 finally, when it was announced that they had won.
Yeah, I'm pretty proud. My wife shot
video of the dance
. Quicktime, 10.8 mb.
Next, only a couple days later Plunge Daughter was in a piano competition. She a perfect score on both of her pieces. Dad
shot video this time
. Quicktime, 13.4 mb.
I must admit to being very proud of my daughter. She's 13, straight A student, talented, beautiful and most of all, has a wonderful personality. She's caring, giving and loving. I see far too many stuck up brats at her age, she isn't one of them and that truly makes me proudest of all.
Anyway, back to normal blogging mode here soon...