2006 Winter Olympics -- Go Korean Biathlon Team!!!
Yeah, that's a weird title for the post, I know. But there is a story behind it. In 2002, with the olympics beginning in Salt Lake City, a frantic phone call came to my wife. The Korean Olympic Biathlon team had no where to stay.
During competition, most teams arranged to live near their venue. From the Olympic Village to the slopes was a long drive. Besides that, the village was loud and crazy, a 24 hour a day party. That is fine if your competition is over, but if you haven't competed yet, it was difficult. So, the Korean team arranged for a private residence near where they would compete.
Upon arriving in Salt Lake City, there were difficulties. Someone had made a mistake and the reservation was for the wrong days. It looked as if the team would be stuck at the village; that is until someone called my wife. They asked us if we would mind hosting the team at our home. Considering the team only consisted of one man, one woman and their coach, my wife agreed.
The team arrived at our home and my wife greated them. At first, it was a bit strained, they didn't know what to expect. I think they assumed we were going to charge them as well. We were just excited to have them there. My wife and the coach talked for a bit and worked things out. We let them know that we were there for them, we wanted them to be as comfortable as possible so they could do their best in the competition.
We weren't unrealistic, Korea isn't a powerhouse when it comes to the biathlon, hence, the small team. Still, we wanted them to do their best and we wanted them to feel welcome. We gave the master bedroom to the coach and the male athlete, the female biathlete took my daughter's room.
We also arranged their meals. This was unexpected for them as well, but my wife is a master, master Korean cook. The coach informed us that they would not eat red meat and a few other things during the competition and my wife took this to heart. She cooked nearly nonstop, dedicated to feeding them like kings and queens and giving them whatever they wanted. Each meal was a true feast, letting them eat as much or as little as they liked. They were flabergasted and expressed their gratitude over and over again. Not only would they not go hungry, they became the envy of other Korean teams, bragging about how well they were being treated. We just enjoyed being able to help them. My wife was like the kind aunt, being older than either biathlete and the coach as well.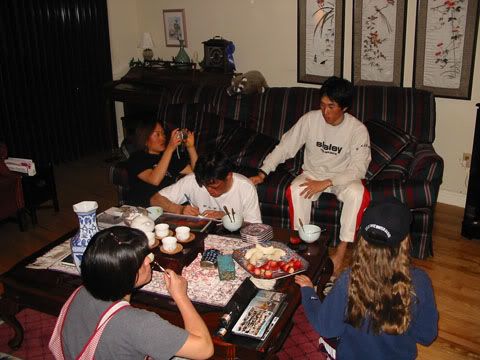 Dessert -- Strawberries, Apples, Korean Pears
It was a sad day when their competition was over and they headed back to the village, they placed somewhere in the 70s, definitely not a powerhouse. Still, they had a grand time and we just loved being a small part of it. They had been perfect guests and had treated our daughter wonderfully. It was an experience none of us will ever forget, nor will we probably ever be able to repeat it.
So, with that, let the Olympics begin! While I'll be rooting hard for the US team, a piece of my heart will be with the Korean Biathlon Team. Fighting!
Below are a couple of pictures from when they stayed with us. Here is a
link to more
.
Sitting around the fire in the living room on the first evening.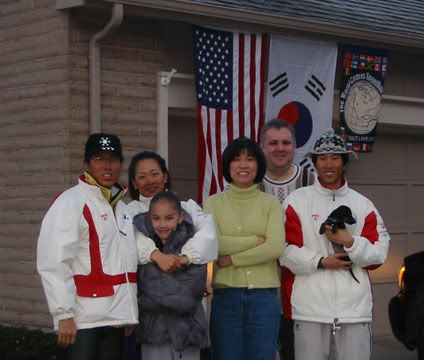 Last day as they left, was truly sad.